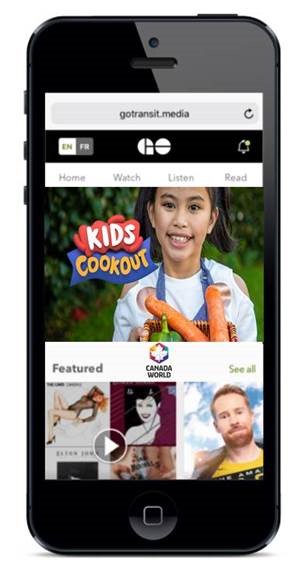 CanadaWorld TV Launches on 'Go Plus' Onboard Entertainment Portal
TLN Media Group is pleased to announce that CanadaWorld TV, the first content platform dedicated to Canadian multicultural programming, is the exclusive multilingual content provider of the new FREE 'Go Plus' onboard entertainment portal, now available to all Go Transit customers across their trains and buses.
In addition to providing relevant information regarding the journey, services and destination, the 'Go Plus' Media Portal will provide customers with unlimited access to  curated high engagement content including multilingual/multicultural programming  under the CanadaWorld TV brand.
Serving the greater Toronto area (GTA), GO Transit serves North America's 4th largest population (6.4 million residents). With annual ridership of approximately 72.4 million and an average weekday ridership of 276,500, GO Transit has an unparalleled reach of commuting professionals allowing TMG and its partners to further expand their reach across digital platforms and speak to an affluent and diverse audience.